Fabulous Moments is happy to announce the 7th Fabulous Family! Meet the Bulaus.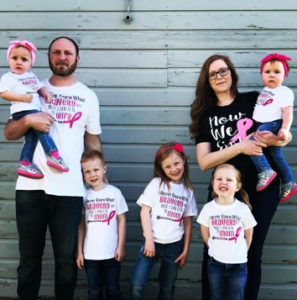 Michelle was originally diagnosed with Stage IIIB breast cancer in February 2017. She underwent chemotherapy, a bilateral mastectomy and 6 weeks of radiation. Follow-up tests revealed that she had lymph nodes that still came back positive for cancer after her initial treatment which required her to do some additional chemotherapy. Michelle completed that round of chemotherapy in April 2018. She was given the all clear in October 2018, only to land in the hospital three weeks later with life threatening calcium levels. It was at that time that she learned her cancer had spread to nearly every bone in my body and was causing her bones to breakdown. Michelle underwent additional radiation, chemotherapy and surgery. Michelle was able to return to work for a short period of time, before making the decision to stay home with the children. The Bulau children are currently ages 9, 7, 5, 3 and 3.
The Bulau family will be traveling to Great Wolf Lodge in Minneapolis to enjoy time away, rest, relaxation and restoration. Michelle's parents and aunt/uncle will be traveling with them as their support system.
Fabulous Moments is honored to be able to serve the Bulau family.