In September 2017, Karla Peter and her family were blessed with a fabulous gift. Karla's close friends organized a final family event. The story of her fabulous moment was chronicled in the Herald-Dispatch Paper (Huntington, WV):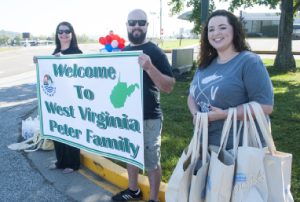 They were the last two items on her bittersweet bucket list, and she finally checked them off Saturday afternoon when she boarded the private jet back home to Dell Rapids, South Dakota.
At one point, Karla Peter didn't think she would ever get to visit West Virginia or Kentucky. Yet here she was in the Tri-State, completing a journey two years in the making and fulfilling the lifelong dream of visiting all 50 states just days before her 50th birthday – Tuesday, Sept. 26, 2017.
Five years ago this month, Karla suffered a seizure at one of her sons' football games and later found out she had a massive brain tumor. She appeared to beat it in March this year, but she became symptomatic again in May.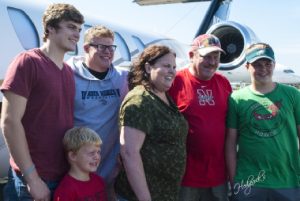 "We're talking a matter of 10 weeks from the point of being all clear to: 'You have a new tumor.'" said Robin Wiebenga, a friend of Karla's who helped organize the trip.
Karla and Louis have four boys: Trevor, 22; Mason, 19; Riley, 15; and Levi, 6. The entire family planned a trip to New England and went in August to pick up the five states she needed to visit there, Wiebenga said. That left two more: West Virginia and Kentucky.
Karla's symptoms got worse while in New England, and she was hospitalized a few days after she returned home, so she and her husband, Louis, were afraid they wouldn't be able to make the trip to those last two states. Her group of friends came to the rescue.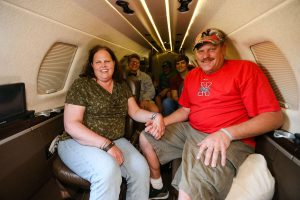 "Early in the summer, we had planned that we were going to fund … her birthday gift," Wiebenga said. "We didn't know where, we didn't know what, but we were going to make it happen."
Last week, Wiebenga contacted a local businessman in Dell Rapids, one of her friends, who owns private jets, and he agreed to provide the pilot, the transportation and part of the fuel expenses. The group of friends got in touch with Anna Adkins, sales manager at the Cabell-Huntington Convention & Visitors Bureau, and set up a special itinerary for the Peter family to take a trip to the Tri-State before her 50th birthday.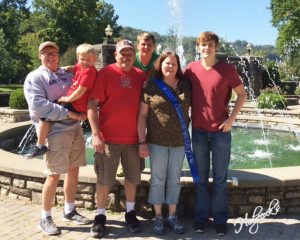 "I just can't believe the reception that I've gotten in Huntington, West Virginia, when this lady from South Dakota calls and says, 'This is the story, and tell me who I can call and what I can do to make this happen,'" Wiebenga said.
When Karla and the Peter family arrived at the Huntington Tri-State Airport on Saturday morning, they were treated to the type of entrance that had just about everything they could have expected from a star entrance but the red carpet. Their personal driver for the day, Chuck Williams, was waiting on the tarmac with his white limousine when they touched down, and Adkins and others involved in planning the itinerary were waiting in the private terminal.
"We just want them showered with love," Wiebenga said.
Williams presented Karla with a bouquet and a card from her group of friends back home who made the trip possible, and Lisa and Jeff Hedgecock of Hedgecock's Studio-Photography met the Peter family to follow behind for the day as their personal photographers.
"They were very excited," Adkins said, noting the city of Huntington and Marshall University donated small gifts such as clothing and knick-knacks to commemorate the experience.
One of the most important things for Karla was getting her last two key chains, which complete her collection and signify the emotional journey she took to complete her bucket list.
Karla and Lighthouses
Karla loved lighthouses. It was inspirational to her because the lighthouse was a light in the darkness to guide vessels through troubled waters. Lighthouses represented hope for her future. She had a collection of them from all over the United States and her home was decorated in lighthouses. To honor her, a lighthouse from her collection will be used as an auction item at each fundraising auction we conduct.