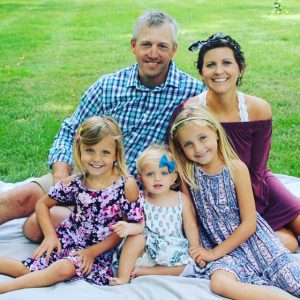 Fabulous Moments is happy to announce the next family to receive the gift of Moments. Tara Bainbridge and her family will enjoy time in the Minneapolis area at Wolf Lodge. The Bainbridge's farm outside of Ethan, SD and have had incredible support from the small community.
Tara Bainbridge was diagnosed with B Cell non-Hodgkin Lymphoma shortly after the birth of her third daughter in 2017. Tara underwent extensive chemotherapy and stem cell transplant in 2017. She was excited to be in remission and returning to a normal life. Unfortunately, the cancer returned in 2018. Tara completed Car-T therapy the end of 2018. Tara's nominator stated that she is a true warrior, who kept a smile on her face and continues to do so throughout the battle.
Tara and Neal look forward to the time they will have away with their beautiful daughters. They will be focusing on creating Memories One Fabulous Moment at a Time.
Please join us on Saturday, February 16th at 6:00 p.m. at the Back 40 in Mitchell, SD to raise awareness of Fabulous Moments and help fund the "Moment" for the Bainbridge family.